Symptom:
Upstairs too hot in summer & too hot in winter while downstairs is okay.
This is usually caused by having a two story house but only one air-conditioning unit with the thermostat downstairs. Hot air rises and cold air falls so when the furnaces is running in the winter the upstairs gets very warm while the thermostat is measuring the temp downstairs which is much cooler so when the thermostat downstairs has reached 75 degrees it may be 85 or 90 degrees upstairs. The same thing happens in the summer, the downstairs stays at the temperature desired but the hot air rises upstairs which will be much warmer.
Solution
- The first to do is inform the homeowner that they should close or partially close the upstairs supply air vents in the winter and in the summer they should open the upstairs supply air vents and close or particularly close the supply air vents downstairs. You can for extra expense put in a damper that has a summer/winter position that puts the air upstairs in the summer and downstairs in the winter that would make it more convenient for the home owner and be more professional. The next thing you need to fix is to add a thermostat device.
Model #T1119RF
Venstar Add-A-Wireless Thermostat Model #T1119RF
Add-A-Wireless Thermostat works with Venstar's Slimline Platinum thermostats like a remote control, monitoring and adjusting the temperature of any room in the house - from anywhere in the house.
Quick and easy 5 minute installation
The thermostat with the last button pressed is the one in control
Back-lit Display
Fully Electronic
Compatible with the following model number thermostats: T1800, T1900
Consult your Venstar dealer for complete details on which T1800 and T1900 thermostat models are T1119RF compatible
With this device you replace your wired thermostat you have now with a thermostat that allows the addition of a second wireless thermostat Venstar T-1800. This device allows you to put a second wireless thermostat on your bed stand or wherever you want. The way it works is the last thermostat you touch is the controlling thermostat so when you go to bed at night you just push the button on this stat and it will control the air conditioning system in your room to keep the temp precisely at the temp you set. When you get up in the morning and go down stairs you touch the thermostat on the wall downstairs and it will control the temperature to exactly what temp you set on it down stairs. The 2 thermostats installed should cost you less than $300.00.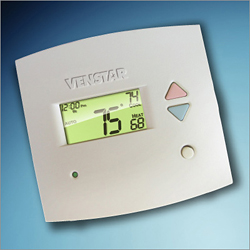 Model #T1800
Slimline Residential Platinum Series
3 configurable outputs for maximum flexibility (except T1700)
Heat pump compatible
Backlit, color-coded keys and legends
Large, easy to read backlit display
Configurable programmable or non-programmable
Configurable manual or auto changeover
LED indicator glows green or red to indicate cooling or heating
Service filter and UV light indicators
Fahrenheit or Celsius display
Keypad lock
Back