Symptom:
Homeowner would like to see the energy use of their heating & air conditioning system daily, weekly and monthly so they can manage their bill.
This is easily done with Venstar's new T5800 (residential) or model number T6800 (commercial) thermostats. You will need a T5800 or T6800 thermostat, a Wi-Fi Key model ACC0454 and a 10K supply air temperature sensor model ACCDSEN. The supply air sensor is usually easier to run than an outdoor sensor. Just use the existing thermostat wires if you have enough (if not you can use an Add-A-Wire model ACC0410 to add more wires) that run to the control board on the furnace, fan coil or package unit. Then a short run of wires from the thermostat wires at the control board to the supply duct is necessary. Of course the customer must have an open Wi-Fi router close by and the password for the Wi-Fi router to connect the thermostat to the internet.
T5800/T6800 ColorTouch thermostats give you all kinds of abilities. You and/or the customer can and change the room temperatures from anywhere in the world with your smart phone or computer. You can set the thermostat to send you an e-mail if the temperature in the house/office gets above or below a temperature you set. At anytime you can monitor the 3 day weather forecast at the house or business. You can see the high and low temperatures for outside sensor, high and low for the inside sensor and you can even troubleshoot the HVAC system to make sure everything is working correctly by monitoring the supply air sensor.
These thermostats can also send e-mail alerts to your iPhone and/or computer. They can send a service alert when it is time to change filters, UV lights, upgrade firmware or simply send an alert when is time for the annually preventative maintenance. You can also send to the thermostat any message you want to be displayed on the thermostat screen such as
"The monitoring system on your AC system indicates your system is not running efficiency and may indicate a pending failure. Please call 949-888-2222 to schedule a service call"
.
When it is time to change a filter, time for maintenance, or the homeowner just wants to know who to call for service, this is the screen that pops up on the display.

You can easily enter the text for this screen directly on the thermostat. If you want to add the company's logo or picture to this screen, ColorTouch Assistant software makes that easy to do as well.
ColorTouch is installation-friendly with its output test screen that allows the installer to test the system.

The graphical user interface shows which outputs are on, so the installer can ensure that all equipment is connected and working properly.
"My Thermostat" screen shows overall status of the equipment and thermostat in graphical panels. ColorTouch's current running firmware version can be determined using these screens. Since ColorTouch has upgradable firmware, using ColorTouch Assistant software users can upgrade their thermostat firmware with ease.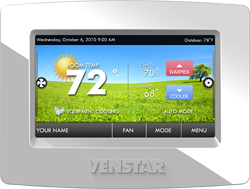 ColorTouch Model #T5800 / #T6800
ColorTouch Series Model #T5800 / #T6800
ColorTouch™ is a multi-functional, simple-to-use, richly featured, programmable touch screen thermostat that thinks it's a digital picture frame. ColorTouch has customizable backgrounds, including the users' own photos, and more than a dozen preset themes, including holiday themes.
Customizable appearance using users' own photos
Built-in nature and holiday themes
ColorTouch Assistant software make configuring fast and easy
SD Memory Card makes import/export between thermostats easy
Engaging screensavers with slideshow, digital and analog clock options
"Simple as You Want" operation lets user customize thermostat info
Scheduler keeps home temperature comfortable
At-a-Glance Screen lets users see temperature and heating/cooling status
Automatically adjust screen backlight with nighttime dimmer
Energy usage info at the user's fingertips
Security features for locking thermostat
Customizable faceplates to match home décor
Automatic daylight savings adjustments, multiple languages, alerts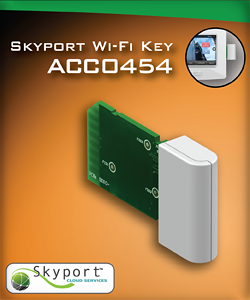 Skyport Wi-Fi Key Model #ACC0454
Skyport Wi-Fi Key Model #ACC0454
The Wi-Fi Key enables Venstar's T5800 ColorTouch thermostat to access a home Wi-Fi network. Using Venstar's smartphone and/or tablet application (iPhone, Android, Blackberry) you can monitor and control your thermostat from the couch or across town!
Easy Setup
Allows thermostat access over the internet
Locking clip included
802.11 b/g Wireless LAN, Wi-Fi compatible
Compatible with VENSTAR thermostat models: T5800, T5900, T6800 & T6900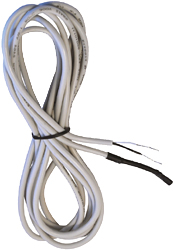 ACC-DSEN Air Temperature Sensor
ACC-DSEN
May be used as a remote, supply or return air sensor
10k ohm thermistor equipped
Constructed with 20' of plenum-rated cable
Grommet for sheet metal installations included
Compatible with VENSTAR thermostat models: T5800, T5900, T6800 & T6900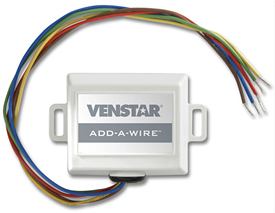 Add-A-Wire Model #ACC0410
Add-A-Wire Model #ACC0410
In applications where additional wiring cannot be run, the Add-A-Wire accessory can be used to add a wire to the thermostat.
Easy to install
Easier than running new wire
Allows 5 wire thermostats to use only 4 wires
Also allows 5 wires to work like 6 wires
Back